Poem -
Attirement of the Bride 1940
Max Ernst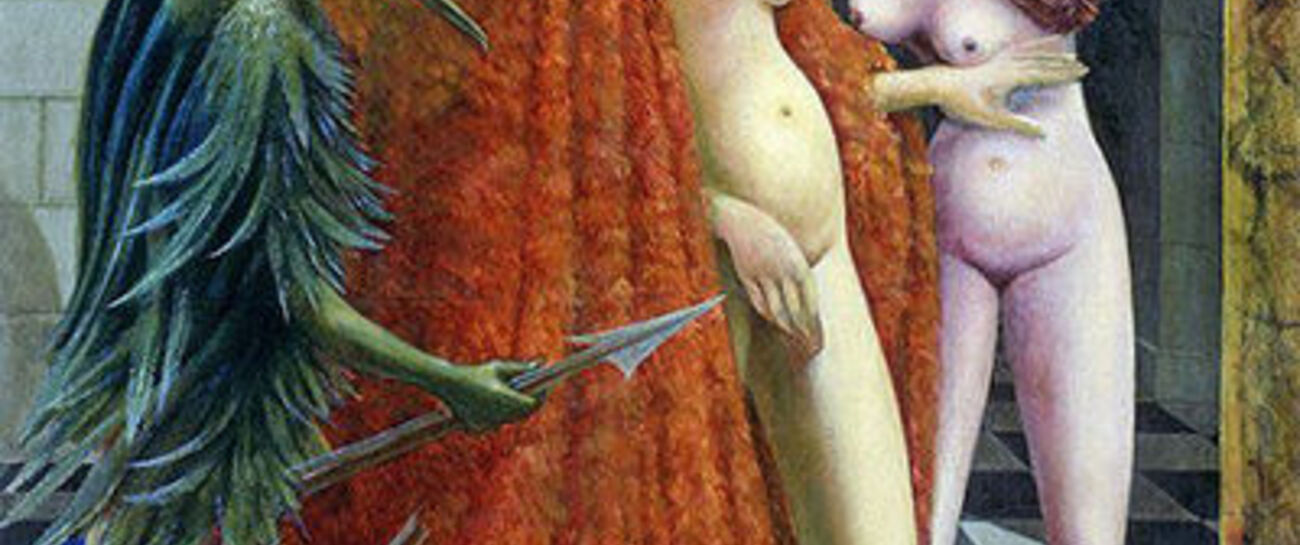 The only place where we can find a four nippled trans-goblin,
Webbed slimy feet, a tear being wiped from her left eye, she wipes it with a regular human hand,
Beside her on the black and white marble floor, her burgundy hoof does land.
Two servants tend to the bride at the top of a dark hallway,
One servant, a feathery crane-like creature holding a spear,
An arrow having pierced the tangerine fur.
The second servant has the body of a supple young dame,
Two mini evil faces poke out from the beard, but have been granted no name.
These faces are similar to those found on buttresses of a church and they can only be seen by the viewer if you are willing to search.
The face of a chicken, a red beak, eyes at either side,
One white and glazed,
One bloodied and dry.
The crane's sharp spear points between the bride's thighs,
And its underneath here the four breasted goblin lies.
The second servant's neck is swollen with a pink belly,
Atop teenage breasts, cradled on the back of the bride's outstretched slender palm,
The bride needs balance from the weight of the fur and rests just above the girl's navel.
The bride's shoulders are tangerine feathered and broad,
The material drapes down to the floor.
A painting behind them mirrors the bride's shape, but I don't think it's a mirror but rather a painting of the bride or a former bride in an orange cape.
The mini evil face hiding in the bride's bearded cape stares at the adolescent girl with skin like snowflakes.
The face seems disgusted with the ivory child – with her head dress fanned out to complete the frame.
The child seems serene and peaceful, but the sinister faces seem cruel & wanting.
The bride's feet rest on two white tiles, the goblin on black.
The crane is on black.
The shawl rests on black and the angelic teen on white.
For me this is when good meets evil,
The beasts connect the bride to the floor or the underbelly,
The white girl seems angelic with a fanned hat that reaches the top of the piece,
Connecting to the sky and all that is good.
The crane's arrow doesn't seem to have an exit point but if you trace its trajectory though the bride's cape, it is slight short of the angel's nape.
Her neck looks hurt.
The only colours connecting the angel to the demons are the burgundy, feathery and coral hues,
These colours can be found on the human leg of the crane.
Like 1
Pin it 0