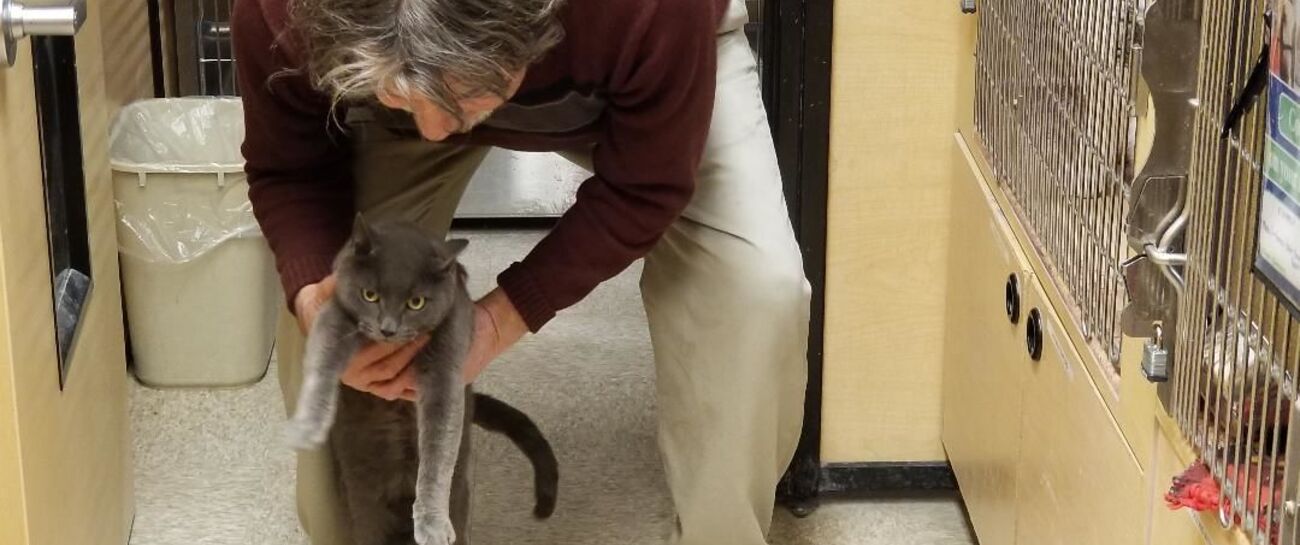 Photograph taken today, at PetSmart, where Cat has been sent from the Humane Society, to be quickly adopted.  It was so lovely to see him, after nine days.  He recognized us, and gave us lots of love.
Late in last September, on our apartment unit's outdoor porch;
We saw a little kitty, who was hungry and sun-scorched!
She rolled over, and let us rub her, you could tell she was no stray;
That her owners had abandoned her, dropped her off real far away!
.
It took not long for us to want to save her, from starvation and her fears;
So, on our patio, we daily fed her, and phoned adoption agencies near!
The earliest that one could take her, was November the sixteenth;
So, we made the long commitment, to be her seven-week safety sheath!
.
Three or four weeks later, a male started showing up;
In the beginning, we yelled and shooed him, for on her food he tried to sup!
But after a while, we came to the conclusion, that he was her protector and dear friend;
So, we built them both a heated house, where together they could spend!
Kitty's rescue date went so smoothly, she was adopted within ten days;
But it left Cat without his roommate, and no one with to play!
This time, we had to wait till January second, before they'd take him in;
But suddenly, we closely bonded, and a romance did begin!
.
Each time we'd go out to feed him, he'd rub our legs and purr;
We grew to love him dearly, we craved touching his soft fur!
But last Thursday, we had to take him, for his adoption and rescue;
Oh Cat, we miss you so dearly, and we never will forget you!
.
.
Kitty was the start
But Cat became our Soulmate
We miss him dearly
P.S.  You are probably wondering why Kitty and Cat had to live on the porch.  It is because Linda is allergic to cats, and we live in a small apartment, where even if we had wanted to keep one, it was not feasible.  Lastly, of course, it would not have been fair to our sweet Cookie.  As it turned out, both Kitty and Cat, had tracking chips, were spayed/neutered, and had been given all their shots.  The Humane Society tried to contact their owners, but Kitty's owner's phone number had been disconnected, and Cat's owners never responded to their message.  This proves that these poor precious creatures, had been abandoned, and left in the wild, to fend for themselves.  There should be very stiff penalties for those horrible owners who abandon their pets.